This is a big update!
Important Note! If you had pending invites prior to the upgrade, those invites will no longer be valid. To re-invite a user, you can use the Resend Invite button on the user's Profile tab OR you can click the Resend Invite link provided on the TEAMMATES tab for any team you invited them to. More on resending invites…
What's New
Please make sure you get the latest desktop clients, browser plugin and iOS client (iOS beta customers) here:
Native Apps and Browser Plugins 
Users (Members & Guests)
We have eliminated the wordy, confusing user types of "Full Access Members" and "Restricted Members". Users are now divided simply into Members and Guests.
Members (formerly Full Access Members) are typically members of your organization, and are able to see all other Members for direct 1:1 communication. They can also see any Guests they share a team with. Members can also create their own teams.
Guests (formerly Restricted Members) are typically people outside of your organization. They can only see members and guests with whom they share a team. Guests cannot create teams.
Teams
There are no longer two types of teams. Creating a team is as simple as providing a name, description, and optionally an avatar, and then inviting teammates. Only users (Members or Guests) who are on the TEAMMATES tab have access.
Auto-invite: In place of the old Full Access team type, we have provided a shortcut on the TEAMMATES tab where you can opt to have us auto-invite all Members (current and future) to the team. This provides a nice set and forget feature for "open" organizations who want to make sure everybody has easy access to information.
Guests: Unlike the old Full Access team types, you can now invite guests to any team you want. However, guests always need to be added manually via the Add Teammates button. They cannot be auto-invited like Members can.
Pinned Tabs
Synchronization: We now synchronize your pinned User and Team tabs across all clients/devices.
Unseen Messages: If you have unseen messages in a pinned tab, we will continue to highlight that tab yellow across all devices, and between refreshes of your browser. No more missed messages!
Auto-pinning

Every time you are added to a team, we will auto-pin that team tab for you, to make sure you are aware of it. You can still un-pin it if you don't want to be alerted to new chat activity for that team.
We will still continue to automatically re-pin a team tab if you are @mentioned directly, or if @team is used in chat.

Important Note for Existing Beta Customers:  You will lose all of your currently pinned tabs in the upgrade. Our apologies for the inconvenience. Please re-pin your teams and then profit from our improvements. Thank you!!
Chat Search
You can now search for chat messages within Team or User chat tabs! Global chat search (from the navigation bar) is coming soon.
Notifications Filter
Filter your notifications to only show @mentions.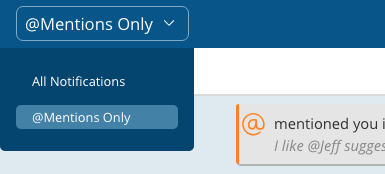 Google Hangouts
This is a "Labs" feature that you can turn on in your user settings. It has been available for 1:1 communication in previous builds. It is now available from Team chat rooms as well! Click the button to start a Hangout, and we will automatically invite everybody on the team. Once you start the hangout (click Join), we will post a message back into the Team chat room with a link for your teammates.