There are two really significant changes in this update:
Posts are now Topics – We have renamed the POSTS tab on forums and teams to TOPICS, and changed the way we display the list of topics. More on that below.
Reactions on everything! – You can now add an emoji reaction to chat messages, topics/replies, tasks, and task comments.
Mobile
New versions of the mobile apps have been posted to the Google and Apple app stores. It might take a couple of hours to roll out to everybody.
Topics
Topics in Ryver provide a great way to have important discussions. Topics group all of your replies together, rather than dealing with random discussions mixed together in the free-form chat room. You can also subscribe to the topics that are meaningful to you and get notifications when somebody replies.

Previously, Ryver presented these threaded discussions as "Posts", and those posts were displayed in a stream similar to what you might see on a Facebook wall. We were seeing a lot of confusion from people related to both the name "post" (many consider their chat messages to be posts) and the manner in which we displayed them. with Topics, if you have ever used forum software, you should find the interface very familiar. Clicking on the TOPICS tab will take you to a simple list of all of the topics in that forum or team. The subject for each topic is displayed clearly, and you can also quickly see when the topic was last replied to.
We have been using topics internally for a few weeks now, and have shown it to customers who were confused by posts, and it has gotten a very warm reception. We hope you like the change as well!
Reactions
Reactions on chat messages have been a top 5 request for quite some time now. We're happy to be delivering this feature to you today. But we didn't just put the reactions on chat messages. They're on all of your content types…chat, topics and topic replies, tasks and task comments.

In chat and topics, you'll see the reaction smiley face icon button in the hover toolbars, and an "Add a Reaction" menu item in the ellipses menus.
In Tasks, there is an icon button available when you hover over a task in a task board, as well as a button when you open up a task detail view. A really neat way to use reactions with tasks is to provide quick visual feedback on task cards for "voting" on tasks that you want to prioritize or move forward. You can use it in brainstorming sessions where multiple users are looking at a task board at once and reacting to ideas in real time.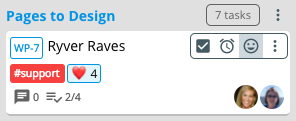 Bug Fixes
Long task category names will now wrap more cleanly and not cause the ellipses button to shift out of place.
Create task from task comment will work with tasks from this point forward. You still won't be able to create a task from a pre-existing task comment.
Clicking Preview Invoice from Admin Settings > Billing will no longer show a black screen if there aren't any invoices.
Fixed rare issue where a message lacks a create user, causing Global Search to timeout if that message is in the search results.
Selecting a task checklist item from search will now open the parent task.
Task Filter: Fixed issue where sometimes toggling between highlight and hide would not work.