Release 1.0.1.13
This is a minor update to address an incompatibility with IE 11 and some older versions of FireFox and Chrome.
Release 1.0.1.12
This is a big update!
We did a significant refresh of the UI, and there is more on the way. Chat bubbles are gone, which has been one of the most common requests coming in from customers. The new UI is more sparse with a focus on the content. Note: It will take a few days for the matching mobile update to arrive in the App Stores.
Speaking of customer feedback, we have a new public-facing Product Ideas forum at feedback.ryver.com, where you can see what we are working on and what we are thinking of doing. You can up-vote your favorite features and make your own requests. Thank you for your continued support in helping us improve the product.
Details for the 1.0.1.12 release:
New, cleaner look and feel
Bubbles are gone from Chat, Notifications and Posts. Based on a lot of feedback, we're putting the focus more on the content, with less "visual clutter".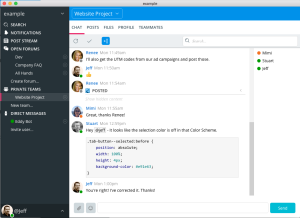 Cntrl+K (Windows) / Cmd+K (Mac) shortcut
Quickly bring up a search dialog and go to any Forum, Team or User without having to use your mouse by entering Cntrl+K in Windows, or Cmd+K on a Mac. No need to use your mouse!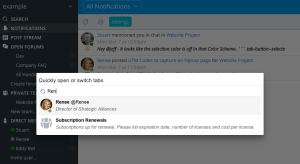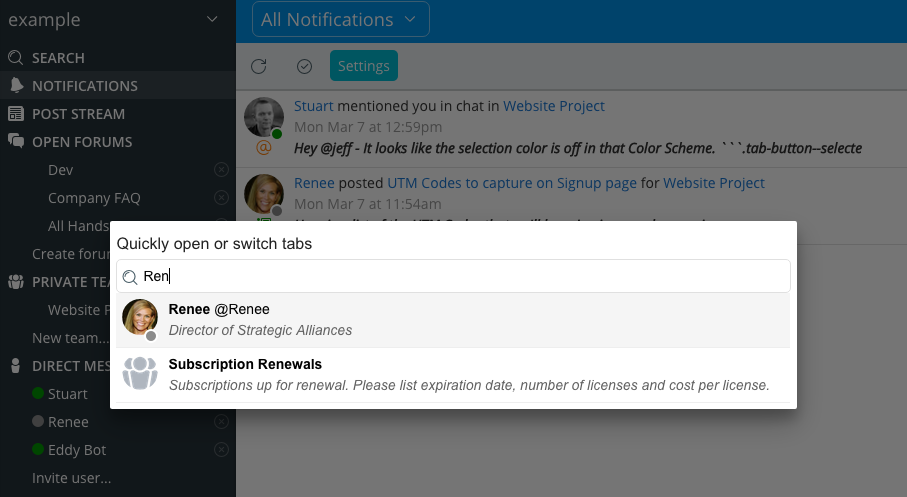 Preview Cards with "Quick Message"
When clicking on a link to a User, Forum or Team in Notifications, Chat and elsewhere, you'll get a preview card that shows name and description, and allows you to send a quick chat message without going to the chat room. There are also buttons for navigating to that User/Forum/Team, or pinning it to your nav bar.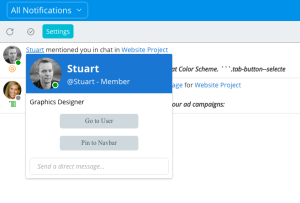 New Unread Only notifications filter
There is now an option to filter NOTIFICATIONS to show only unread messages. Note that this is phase one of the new filter. As you read your notifications, they will remain in the view until you refresh or click the checkbox to mark all as read. In an upcoming update, we will start auto-removing them as you click on the notifications.