New Desktop Builds
Please go to the Ryver Downloads page and get version 1.1.6 of the Windows and Mac desktop clients (Linux coming soon) to get the most out of this Ryver v1.0.1.47 release!
Improved @mention lookup accuracy
If you have a lot of users in your Ryver account, you may have noticed that the "fuzzy search" for @mention auto-complete has been a little too fuzzy. We have improved the algorithm to give you much fewer results to sort through.
In-app image viewer
Now, when you hover over an image, you'll see a magnifying glass that you can click to view a larger image right in the app. You can click the other button to open the image in a browser tab still. Clicking on an image thumbnail on the FILES tab will also use the in-app viewer. Note: In a few days, we'll bring an in-app image viewer to mobile as well.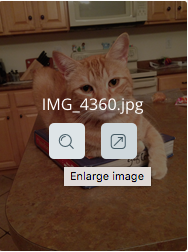 A true "Do Not Disturb" mode!
Up until now, setting your status to Do Not Disturb has been a passive feature. It alerts others that you are busy or in a meeting, but selecting this status had no impact on app functionality. Now, if you set your status to Do Not Disturb, we will stop popping up the in-app "Noty" in the lower left corner of the app, we won't make the alert sounds, and the desktop app won't bounce at you.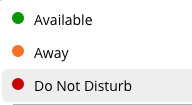 Improved quote formatting for Comment and Chat "Replies"
When you use the Reply action to quote somebody else's message, we now show the author's name that you are quoting, and we put the cursor above the quote, for typing your new message. This results in a more readable quote history when you "reply to a reply".
New Activity indicator in desktop app
If you are a member of multiple Ryver organizations, we now check for new activity on all of your Ryver accounts when the desktop app starts up or wakes from sleep. We'll provide an orange indicator to show that there is something new. Note – we have always had the orange dot, but previously, it only showed when something new occurred while you had the app running.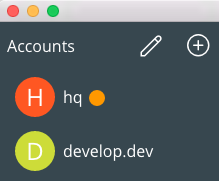 Note: You need version 1.1.6 of the Desktop App for this feature to fully work!
Invite Users bug fix
We fixed an issue where the Admin's Invite Users view would allow you to invite a guest, without adding them to any Team or Forum, stranding them with no way to communicate. There is now a validation on the Invite view to make sure you select at least one team or forum if you are inviting guests.
Better support for large quantities of GIPHY links.
If you have a Forum or Team where you use the /giphy chat command a LOT, you may have noticed that scrolling through the chat history can cause the app/browser to crash. We use a different Giphy renderer now, which should address this issue.