There are two significant new features in this update:
Team/Forum admin settings with option to hide chat, topic and task tabs.
A new simple integration to watch news sources and RSS feeds for articles and stream them to Ryver.
If you are using the free edition of Ryver, you will notice that you have access to not only these new features, but you also have access to task management in your teams and forums. Stay tuned for an important announcement from the CEO of Ryver for the reason behind this.
The mobile apps are in staged rollout, so please keep an eye out for those. Thanks!
Team and Forum Settings
Team and Forum admins – You can now configure which tabs you want to be visible in your team or forum via Manage Team and Manage Forum. Just click on the ellipses button in the top blue header while you are on your team or forum to access the manage dialog. Then look for the new Settings tab on that dialog: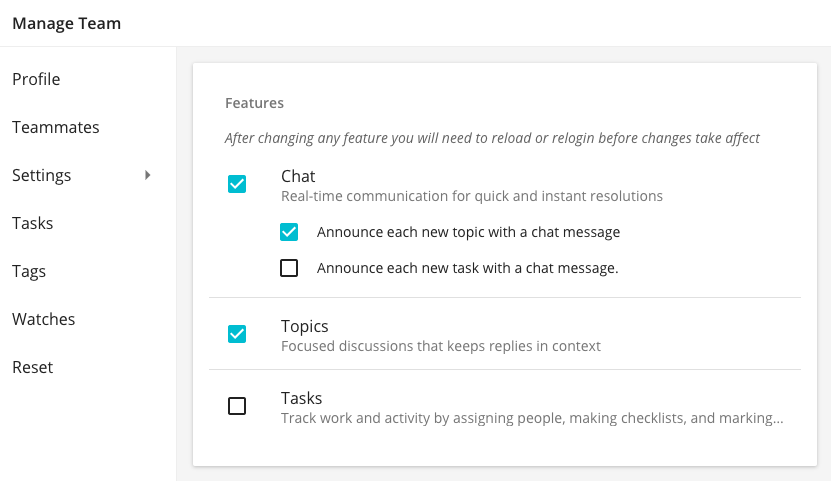 Please note that we will have a follow-up update soon with some additional support for this great new feature, including an updated Create Team/Forum dialog that allows you to select your tabs up front, rather than having to go to settings. Also, please make sure everybody gets the new mobile app builds from the app stores, with compatibility for this feature.
Ryver watch service
We have implemented a service that will watch popular news sources and any custom RSS feed (you provide the URL), displaying previews of new articles in the chat room of your team or forum. This new feature can also be accessed from the Manage Team or Manage Forum dialog, under the "Watches" sub-tab: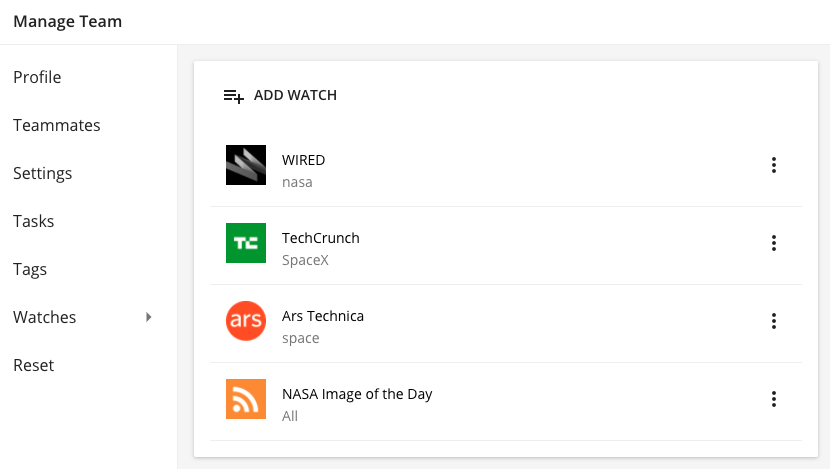 When you click "Add Watch", there is a list of popular news sources for you to choose from. Or you can select "RSS" at the top and provide your own RSS feed for Ryver to watch: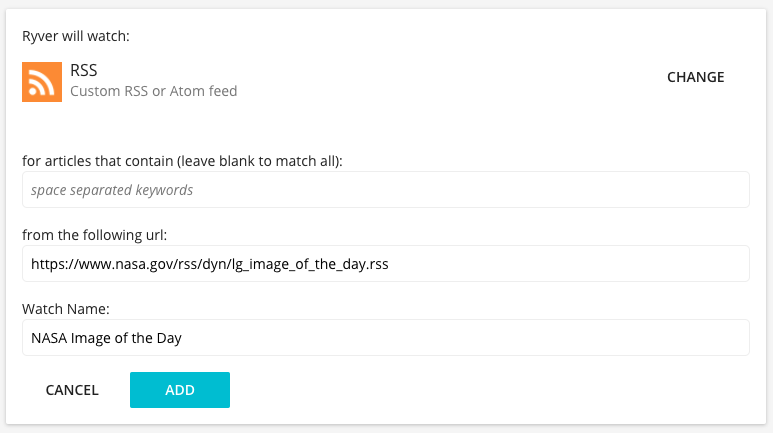 Ryver will check your defined watches hourly (we may do more frequent checks in the future) and populate your chat room with articles as they come in: