New Notifications Options!
Get notified of all chat messages in a forum or team
By default, we only notify you if you of new chat messages in an Open Forum or Private Team if you are @mentioned or somebody uses @team in their message.  We have added a new option that allows you to get push notifications on your mobile device for ALL messages in a forum or team. You can control this setting at the forum or team level from the ellipses menu at the top, under Notifications: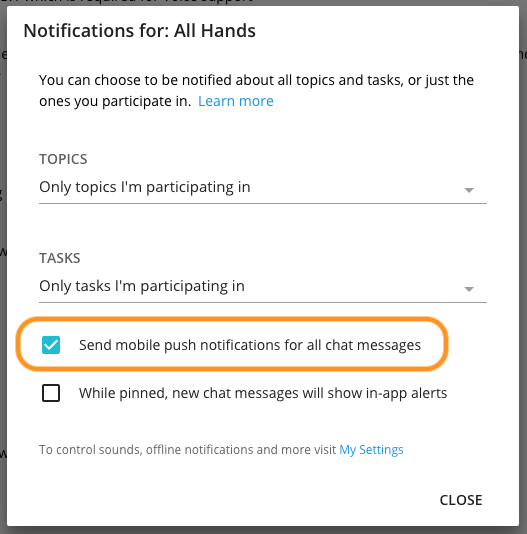 You can also set a global preference for this setting in My Settings > Notifications, rather than set it on every forum and team.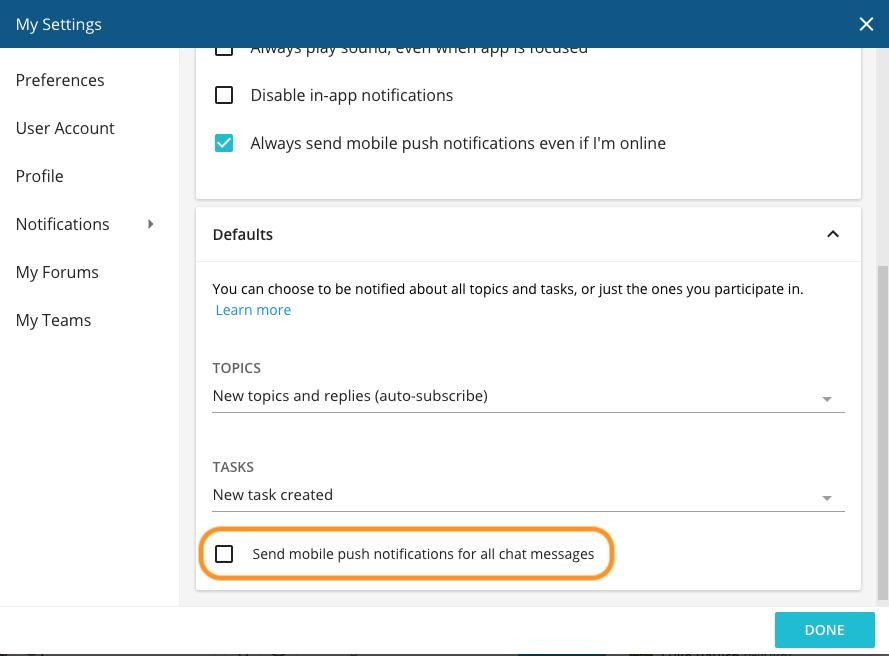 Mark notifications as "unread", or delete them
On the NOTIFICATIONS view, there is now an action button (ellipses) available when you hover over an individual notification. There are menu options to toggle the notification read/unread status, and to delete the notification. Note: Deleting a notification will not delete or alter the content that the notification is related to.

Refresh NOTIFICATIONS view
There is now a refresh button at the top of the notifications view, in case you want to refresh the filter you currently have applied.

Additional usability improvements
As you scroll back in chat history past the current week, you'll see full date and time, rather than just the day of the week and the time.
If you click the bell icon on a topic, the pop-up now has an "unsubscribe" option.
In My Settings > Preferences > Navigation, you can now choose to hide the Search, Task Stream or Personal Tasks tabs in the left navigation bar.
When looking at a Task Details dialog, click the Task ID to copy it to your clipboard, so you can paste it someplace else.
You will now see an indicator in forums and teams when somebody is typing a message, just like with DMs. It will show one or two names, but if more people are typing, it just says "multiple people typing...". If you don't like seeing the "typing…" indicator in the left navigation bar, there are user preferences to hide that in My Settings > Preferences > Navigation.
Mobile
We are working on new mobile builds with all of the above new functionality. Look for updates in the app stores within the next week.