User Menu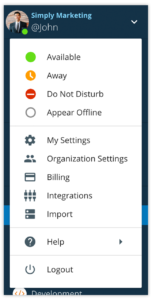 Open your User Menu by clicking the drop-down button located at the top of your left navbar. The User Menu provides the following options:
User Statuses — Let your teammates know your status by choosing from the following:

"Available"
"Away"
"Do Not Disturb" (prevents all Ryver Desktop Notifications from appearing)
"Appear Offline"

My Settings — Edit your account information, preferences, and defaults.
Organization Settings (Account Owners & Admins only) — Manage Users, Teams (Enterprise Plan only), Permissions, Preferences, Billing History, Task Users, SSO, News Streaming, and Signup Links.
Billing — Manage your Ryver subscription.

Integrations 

— Set up Inbound Webhooks, Outbound Webhooks, and Zapier Integrations.
Import — Import your Slack or HipChat data.
Help — Access Ryver Support, discover Keyboard Shortcuts, learn text Formatting commands, and Contact Support.
My Settings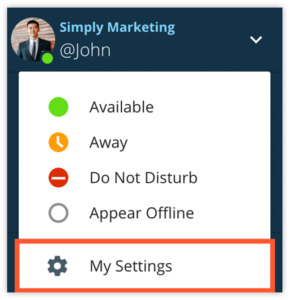 You can customize your Ryver experience in the My Settings controls.
Preferences — Adjust Navigation views, Pinning order, Inputs and Shortcuts, Chat embeds, Integrations, and Reset Help Banners.
User Account — Change your Username, Password, Email address, and Time Zone. You may also choose to leave your Organization here.
Profile — Edit your Display Name, Role, About Me, and Phone Number.
Notifications — Edit Notifications settings for Desktop, offline emails, sounds, in-app notifications, notification deletion, and mobile push notifications. You can also adjust global notification default settings.
My Forums — Pin a Forum to your left nav bar, edit Notifications settings for individual Forums, and leave a Forum.
My Teams — Pin a Team to your left nav bar, edit Notifications settings for individual Teams, and leave a Team.