We are getting away from the release note versioning, as displaying a "web version" was causing confusion relative to our App versions. So we'll just give you "What's new" updates as we roll out new features and fixes. We will be rolling out new Mobile clients within the next couple of days as they clear the App Store approval process.
Conference Calls – Phase 1
We have partnered with FreeConference.com (not to be confused with other similarly named services such as FreeConferenceCall and FreeConferenceCalling) to provide a one-click "Start a Call" feature from any Direct Message, Forum or Team chat room. You can have up to 10 people on an Audio call, with Screen Sharing capability. Up to 3 people can use video.

Click the Start a Call menu option from the ellipses button in the header bar. If you have never used FreeConference.com, you can create an account right from the Ryver UI. If you already have an account, you can specify that as well. Whenever you start a call, a link will be added to the chat room that can be clicked to join your conference call.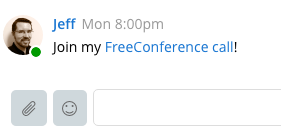 FreeConference.com works best with Google Chrome (required for sharing your screen). We will also be working on integrating it directly into the Ryver desktop application in an upcoming update, so you don't need to rely on having a particular browser installed. We will also add a chat slash command in the next update, so you can start a call more quickly.
Keyboard Hotkeys
Check out our new Keyboard Hotkeys help in the drop down menu at the top of the nav bar: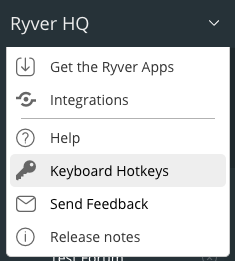 Navigation Scroll Bar
People have been asking us to make the scrollbar more visible in the black navigation bar. We now show the scrollbar "thumb" in light gray when you hover over the navigation bar.
Somebody is Typing
You will now see a little animation to the left of user names under Direct Messages when they are in the process of typing a message to you.
Performance Fix
We fixed an issue where sending a user invite in an Organization with lots of users would cause performance problems due to the Direct Message list reloading all users for every Ryver client that was online at the time the invite was sent out.