We have some great updates in this release that customers have been asking for quite a bit…
New Messages watermark
We will now show you a New Messages indicator when you return to a chat room with new messages since the last time you visited. We were doing this previously in limited fashion, but it will now work whether you have visited that chat room within your current session or not. Currently, we do not auto-scroll you to that watermark, but we will be looking into it in another update.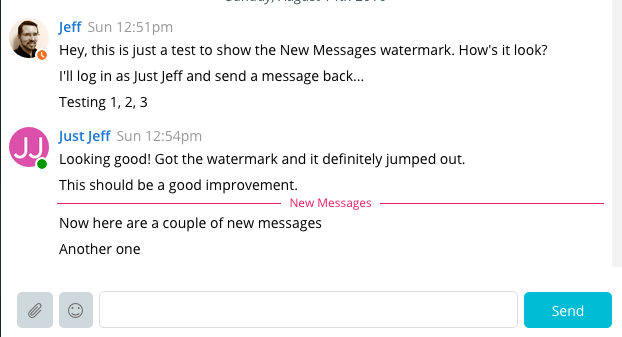 Improved "presence" indicators
We have updated the presence indicators with symbols, so that you don't need to rely on distinguishing the colors.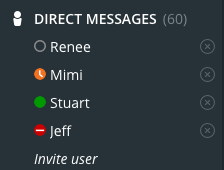 Expand/Collapse embedded chat previews
We have had a lot of requests to be able to expand or collapse ALL image/link previews within a chat room. This release introduces the /expand and /collapse "slash command" option in chat rooms. Just type /collapse in a forum, team or user chat room and we'll collapse all of the previews currently being shown, and make collapsed your new default for that chat room. You can expand individual image and link previews and we will remember your settings for those messages.
The global default for chat image/link previews is "expanded". If you would like to change your default globally, we do have a preference for that in My Settings. Changing the global preference will impact any new messages coming in, and if you refresh your chat view, you'll see that it has been applied to older messages as well.
Note: We were not supporting image collapse for a few weeks. Those images will unfortunately not adhere to your expand/collapse settings. However, any new images added moving forward will be collapsible.
Preference for hiding POST STREAM
There is now a My Settings -> Preference to hide the POST STREAM in the navigation bar if you do not use it and would prefer to not show it.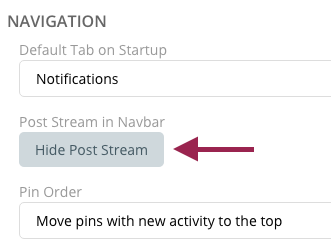 New notification view for chat @mentions
We have a new @mention notification view that will show you the chat message you were mentioned in, with yellow highlighting, and will also show the messages before/after it.